Customer Reviews
Filter Reviews:
towel
kitchen
kitchen towel
purchase
color
linen kitchen towel
none
09/17/2019
Penny C.
United States
Never knew what I had been missing in my kitchen
One of the women I follow on IG had talked about the kitchen towels she used. They are an all natural household with all of their cleaning supplies and her dish towels etc. I recently was watching her stories and her house was being set up for a magazine shoot. I saw her husband use one when he was cooking and it looked large in his hands. I thought I would try a set. I have always been a WS brand kitchen towel. Probably because my husband had some as when we moved into his house. I ordered me two towels (she had a 30%) coupon as well. Help her a and she help me every time I listen to her stories on IG and her emails for her supporters. I loved them the two I ordered So I got think I have decided to do for Christmas for all the girls in my family a reusable bag like for groceries and put in a few of my favorite things that I know each would love and it would be personalizes. Last year I got them Lily Pulitzer Swell bottles and some gift cards. But I already have the bags I am going to use and I got back on here and ordered enough for all my nieces and nephews girlfriends. Today Belk had a special on Lily Pulitzer office supplies etc. I snagged something for each one and almost all of them have new jobs or one that is starting college. I hope I can make my ideas workout. I maybe back on here to looks for some throws for a couple of older friends. This is not an ad by no means it is just my experience and how I plan to use them. They are so big and absorb so well but dry fast. Love them hope they do as well.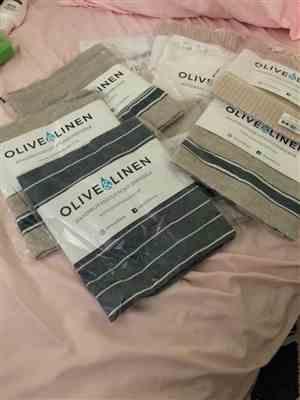 08/31/2019
Penny C.
United States
Linen in the kitchen
I had looked at these before but didn't make the decision to purchase. After seeing them again this time in a real kitchen being used by a real person I decided to take the plunge. Wish I had don't it sooner they are really over sized and light weight. The lack of thickness was wonderful. I love to use them to set my wet just washed items and then us it to dry away any water. I did have a discount code and that really made the deal even sweeter. I will be buying these for Christmas presents. Along with an assortment of kitchen items would be perfect for the 9 ladies in my immediate family. I did Lily Pulitzer Swell bottles this last Christmas so a kitchen theme will be the go to this Christmas. I have 3 nieces who are newlyweds and one that will be going to college along with my Mom, Sister and my nephew and brothers girlfriends. Already have a few items purchased. Our family is a family that loves to cook and share. These linen towels will be a addition or maybe the gift bag in some way. Thanks my IG friend and her discount code. She is somebody I stand back in awe of.
08/02/2019
Pamela S.
United States
Love them
I recently purchased 3 kitchen towels and couldn't be any happier with my choice. Great fabrics, weight and quality.
07/30/2019
Amber K.
United States
Love!
These are beautiful and functional! I'm so glad I've found this company!
MM
07/23/2019
Michelle M.
United States
Love this towel!
I love this towel - the color and texture is great. It's a bit thicker than the other linen towels. Very absorbent and washes well!